Standard Glass Railings
You love your view, so keep it clear. Using low-maintenance tempered glass and aluminum posts with or without toprails, you will be able to see the view clearly. There are many standard designs to choose from or we can custom build just what you'd like for inside or outside. We have many styles and colors to choose from and offer attention to detail — from start to finish.
Excell's standard glass systems provide a variety of unique powder coated top rail and post options that look great, require virtually no maintenance and leave you more time to enjoy the sun and less time maintaining your deck.
VIEW COMPONENT GLASS SYSTEM SCHEMATIC
Schematic Drawing for Component Glass Railings.
VIEW COMPONENT GLASS PRODUCT DATA SHEET
Overview of the features and benefits, physical properties and testing and compliance data of Excell's Component Glass Rail.
VIEW TOP & BOTTOM RAILS AND PARTS BROCHURE
Overview of the top & bottom rails and parts brochure for Component Glass Systems.
Choose from our 4 standard Top Rail Panel styles –

The NEW Port Royal Top Rail provides a look as strong as its performance. Now you can have a Continuous Top Rail look while using up to a 3″ square post.
VIEW PORT ROYAL TOP RAIL BROCHURE
The Colonial style Heritage Top Rail is a one-piece top rail that serves as an attractive addition to Excell's extensive line of profile options.
VIEW HERITAGE TOP RAIL BROCHURE 
The Classic Look of Wrought Iron with the Low Maintenance and Durability of Aluminum.
Choose from our 2 standard glass Panel Styles –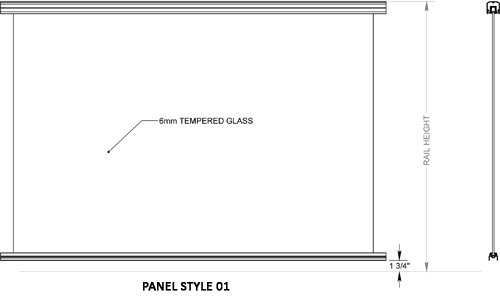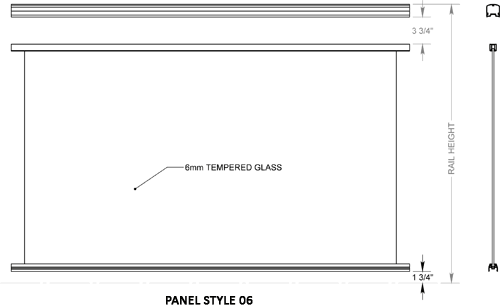 Excell offers standard posts in 1 5/8th, 1.72" and 2 ½", but also has a variety of custom posts available. Posts can be surface or fascia mounted with a variety of base plates or post caps to match any design.