Handrails
Excell aluminum Handrails can be used on any Residential, Multi-residential or Commercial project and come in a Standard 1.6" or 1.9" round pipe diameter.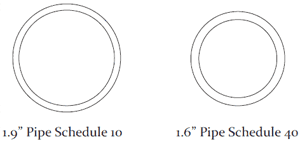 Standard Handrail Pipes are 1.9" or 1.6" round in diameter.
All of the Excell Handrail Components have a powder coated finish available in 9 standard colors (or any one of 180 Custom Colors) and meet AAMA 2603 and AAMA2604 specifications with our standard Super Durable Powder.