Excell offers standard posts in 1 5/8th, 1.72" and 2 ½", but also has a variety of custom posts profiles available. Posts can be surface or fascia mounted and can be installed with a variety of base plates or post caps to match any design.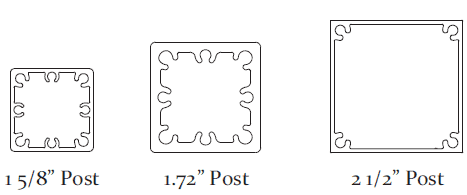 Standard posts come in the 1 5/8th, 1.72" and 2 ½" sizes, but are available in other custom profiles.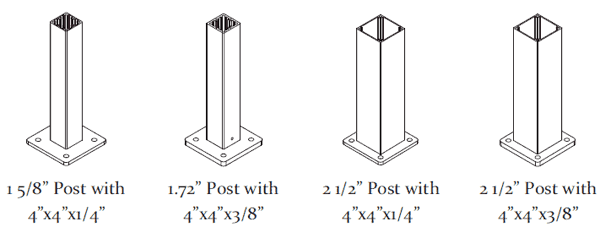 Excell's Standard Surface Mounted posts come in 4 options varying from 1 5/8" to 2 ½" with 4"x4" base plates of varied thickness.

Standard Component Pickets are available in a traditional 5/8"x5/8" square or the wider 5/8"x 1½" slat picket.

Standard Welded Pickets are available in 2 additional styles – including the ¾"x ¾" square and the 5/8"x5/8" basket pickets.
Custom Pickets can be manufactured to meet any design or building requirement.
View the Fence Styles that can be combined with Excell's Fence Posts and Caps.
All of the Excell Fencing Components have a powder coated finish available in 9 standard colors (or any one of 180 Custom Colors) and meet AAMA 2603 and AAMA2604 specifications with our standard Super Durable Powder.